Submit Order By July 20th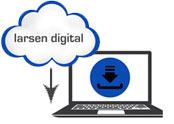 Download your Mp4 Files!
Details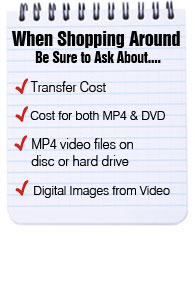 Get Digital Images
From Your Video Tapes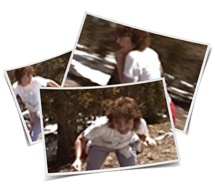 Watching your home movies on your TV or computer is always a fun emotional experience.

Now you can capture those individual moments and frame them for everyone to see by having us provide digital images from your
Video Tapes..
Call us to discuss your options,
1-800-776-8357
Converted in the USA
Your irreplaceable movie films are too precious to outsource. Unlike other scanning companies, once your work arrives at our facility in Utah, it stays here. More Info
Customer Testimonials
Perfect in every way! From the above and beyond customer service, to the fabulous quality of workmanship! Everything was exactly as I ordered.
Jim B.
Seattle, Washington
I've received my DVDs and they turned out better than I expected. Thank you so much for working so diligently on my difficult tapes.
Much appreciated,
Tanya S.
You guys did a great job. Everything is in good shape and just how I asked the job to be done.
Thank you very much.
Dwayne B.
Thank you for the wonderful job you did on my DVD project. It is so great to see my grown kids when they were babies. Thank you for taking such great care of my videos.
Jackie P.
Madison, Wisconsin
Video Tape Transfers





KNRS 105.9 Sale!




Video Tape Transfer: $16.50 $13 Per Tape

Add Digital Video Files!

Add MP4 Files for $5 per tape OR
add ALL the MP4 files to your own hard drive for $20 flat fee.
Call for details!




Use Code: KNRSvideo

This offer can not be combined with any other discounts.
You must use the coupon code of KNRSvideo on the order form to receive your discount. Discount applies to Video Tapes saved to DVD.

Pricing is per tape with a maximum of 2 hours on each tape.
Tapes that exceed 2 hours will incur additional charges.

Minimum Order $20 Details
DVD's allow you to watch your video tapes on your TV using your DVD player.
Each tape converted will be stored on it's own DVD. Video Tapes will be returned in a dual DVD case.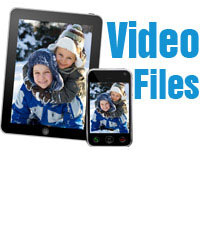 When you choose to receive your video tapes as an MP4 video file, you have the freedom. We all lead busy lives, and now you have the capability to take your video tape files with you wherever you go! Whether it's on your smartphone, tablet, or laptop, watch your digitized video tapes on your favorite device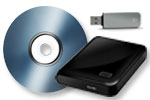 You can have your video files saved to a data disc, thumb drive, hard drive.

Video Tape Formats
We specialize in transferring all types of video tapes to digital. We can convert VHS, VHC-C, Hi8 Tapes, 8mm Video, Digital 8 Tapes, MiniDV Tapes and Mini DVD discs.
VHS
Standard VHS Tapes flooded the market in the 1970's. As the most common type of video tape, VHS tapes are 187mm wide, 103mm deep, and 25mm thick, and range from 2 hour to 8 hour mode. The higher the VHS duration mode, the lower the quality becomes.
VHS-C
VHS-C Video Tapes are a smaller version of VHS tapes. Offering the same quality as the regular CHS tapes, they do require an adapter to be played in a VHS Tape player. Unlike to full size VHS tapes, which have two spools, the VHS-C Tapes only contain one spool that it's magnetic tape wraps around.
Hi8 & Digital8
Hi8 Tape, Digital 8 Tapes, and 8mm Video Tape all look very similar. Digital 8 video tapes look exactly like the Hi8 tapes, however, Digital 8 tapes are digital, and Hi8 tapes are analog. More info on
Mini DV
MiniDV Video Tapes are the smallest of the Video Tape Family. Some MiniDV tapes have the capability of being shot in HD, but MiniDV's are mostly known to be Standard Definition. While we currently only transfer in SD, we still offer to transfer your HD MiniDV Video Tapes, however, the Mp4 file will only be in SD.