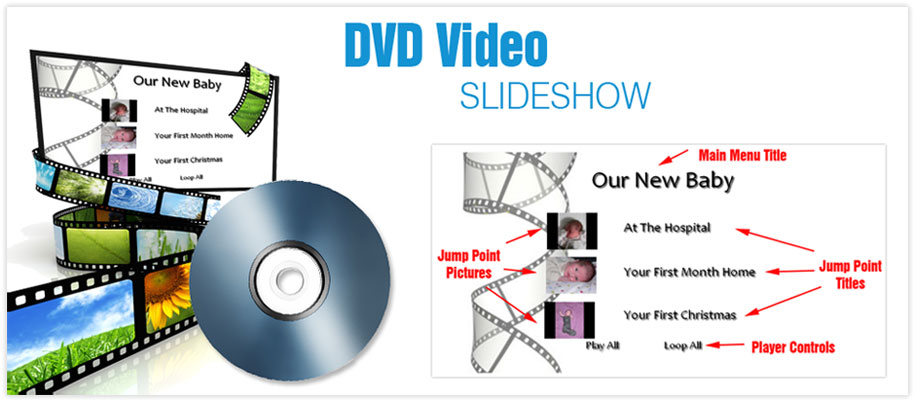 Features
Jump Point - "Chapter"
A Jump Point is a "Chapter" in your video, you can have as many or as little of them as you want.

When you are organizing your order, the name you give each group is the name we will assign your jump point.
Title Slides
A title slide appears at the beginning of each Jump point and will announce the title of the images you are about to view. This is a wonderful feature when watching multiple jump points in a row.
Music
Adding music to your DVD Video personalizes your project. You can choose from our music options, or send in your own music.
To listen to our music library Click Here
Please Note: music sent to us to use on your DVD Video must be legally obtained
Main Menu Title
If you have a title for your entire project let us know in your special instructions and we will add it to your menu page. Customers choose things such as "Smith Family Memories" or "The Life of John Smith."
Enjoying Your Family Memories on your TV!
Our DVD Video Slideshows allow you the unique opportunity to view all your family memories on the comfort of your couch. You can personalize your video with title slides, main titles & music.
DVD Video Slideshows make great gifts
Giving the gift of memories is a unique way to celebrate the past. When ordering a DVD Video Slideshow you can order extra copies to share with family & friends.