Free Return UPS Ground Shipping-
On Orders $100 or more
Use Code: FreeShip
Transit Times
Orders that are returned UPS Ground will take 1-6 business days to arrive depending on the state the package is being shipped to.

If you are concerned about scheduling, feel free to call us at 1-800-776-8357 and we can discuss all your options.
Below is a map showing transit times from us to you.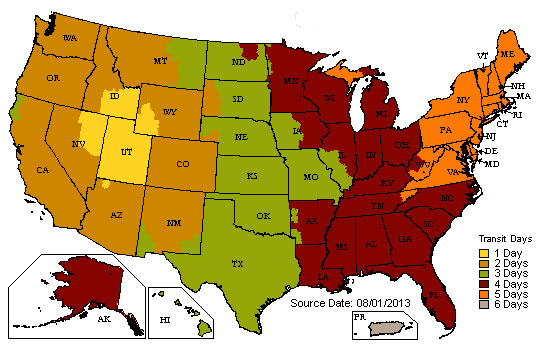 Limitations
Location
Shipment destination must be in the lower 48 states.

Customers in Alaska & Hawaii will receive USPS return shipping and will be charged what USPS charges us. There are no handling fee's.
Ground Shipping
Offer is for Return UPS Ground Shipping
Heavy Containers
Orders being shipped in carousels, binders or metal cases do not qualify for this offer.
*Contact us if this is an issue for you
Restrictions
Free shipping offer can not be combined with any other offer or discount.

Order Total must be $100 to qualify

Hurry so you don't miss out on great sale pricing!
Expiration
You must ship your package within 7 days of placing your order and receiving a label.

-->