All Work Done in the USA!
Your memories are priceless, which is why we will never outsource
your film, videos, or photos outside of the US.
While we choose to keep your slides, negatives, photos, videos and movie film out of harms way by doing all work in the United States, some companies outsource all their scanning outside the United States. This means that all your film & videos are packed onto a freight ship and shipped to another country. We understand that your film, videos, and photos are irreplaceable, and we would never risk losing them by sending them overseas. Watch out for companies that try to hide this fact from you by having you send your belongings stateside first. A recent article stated that roughly 10,000 cargo containers are lost overseas each year! Read the Article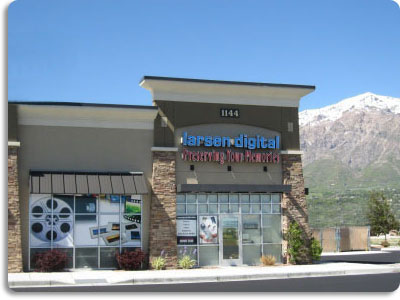 Your slides, negatives, photos, videos, and movie film will arrive at our facility in Utah, resting beneath the snow-capped peaks of Mount Ben Lomond in Pleasant View, and that's where they will stay throughout the entire conversion process.
We don't need to offer some cash guarantee in case your package gets lost, because we recommend using a shipping carrier that gives step by step tracking information, and we do the same as we send your digitized memories back to you.

Larsen Digital Services
1144 W 2700 N
Suite 100
Pleasant View, Utah 84404