Movie Film to Digital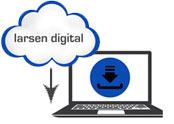 Download your Mp4 Files!
Details
Processing Times

Quantity
(Feet)
Normal
Processing
1-3,000
2 weeks
3,001-5,000
3 Weeks
-->
5,000+
4+ Weeks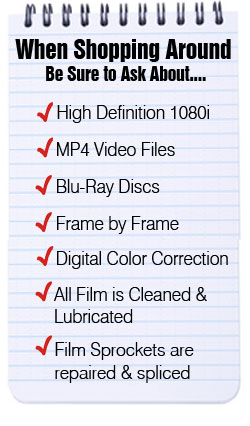 Film Length?
Estimate how much film you have based off reel size.
Click Here
for footage estimates.
Get Digital Images
From Your Movie Film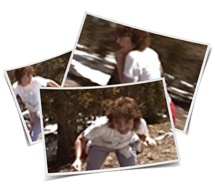 Watching your home movies on your TV or computer is always a fun emotional experience.

Now you can capture those individual moments and frame them for everyone to see by having us provide digital images from your
movie film video.
Call us to discuss your options,
1-800-776-8357
Discs?
With our order form you can select whether you want your video files saved to DVD or BluRay, enabling you to watch your movie film on your TV.

For more specific information on disc options click here
Converted in the USA
Your irreplaceable movie films are too precious to outsource. Unlike other scanning companies, once your work arrives at our facility in Utah, it stays here. More Info
Customer Testimonials
I could not be more pleased with the quality of my 8mm transfer you put onto DVD. I gave this to my mother for her birthday and she was ecstatic.

Thank you for the lovely work you did.
Staci H.
Boston, Mass.



I received my DVD's that you digitized for me today. You did a fantastic job, and thank you very much.

Thanks again,
Brad K.
SLC Utah.


Your service was great and the dvd 's are what I expected and hoped for.

Thank you
Anna V.


Dear Larsen Digital,
We have our DVD and feel that the job was very well done and more quickly than we imagined!

Thanks.
Susie W.
NY, NY
Super8 Movie Film
Super 8 movie film was introduced in 1965 as a higher quality alternative to 8mm film. Some Super8 film came with a magnetic sound track, about 5-8% of super8 film sold & recorded has sound.

Although Super8 movie film is very similar to 8mm film, it has slightly larger frames due to the smaller sprocket holes.
8mm Movie Film
8mm Movie Film was introduced in 1932 as a less expensive option to 16mm movie film. 8mm Film is 4.8 mm x 3.5 mm.

8mm film can come on what is called a "double roll" which was 16mm film with sprockets on both sides. Once you were done filming on one side of the 8mm film, you took it out & flipped it over & recorded on the other side. When the 8mm film was being processed it would be split down the middle, doubling the footage, hence 8mm "double footage".
16mm Movie Film
16mm movie film was introduced in 1923 as an alternative to 35mm film. 16mm films became popular with armature videos. In 1935, 16mm film started offering sound, it was offered in either optical or magnetic sound.
Movie Film Conversion to Digital
Converting your Movie Film to digital is easy with Larsen Digital. With our order form you can select whether you want your movie film saved as Mp4 video files, DVD or BluRay, enabling your to watch your movie film on your TV.
Hurry! Submit Order Form By September 28th
Standard Definition: 24¢ 21¢ per foot

High Definition 1080p: 28¢ 26¢ per foot

All Movie Film transfers come with a FREE
playable DVD for their TV!




Add Digital Video File: $5 Per Disc




Minimum Order $20 Details





Digital MP4 Video Files are the digital version of your movie reels.

This will allow you to put these files on your computer, where you can edit your videos, upload online & easily share with family.

Video Editing Tutorials




Download Your MP4 Files!




Download your Mp4 files directly from us! We will email you a link to download your files. Details
DVD Discs

If you want to view your movie film digital file in standard definition, then we can transfer your film to a DVD. You can watch your DVD on your TV and any computer capable of playing DVD's.

Our Free Complimentary DVD Discs will have chapter markers for your convenience. The DVD will contain no editing of the footage (unless you order Advanced Color Restoration) and no disc menu.

If you would like a custom created DVD, just let us know what features you would like included.

We offer:
Custom Menu with a title
Background Music
Title pages - visually announces a new segment of video
reel leader trimmed out
edit out unwanted portions of video
Include still photos (digital images) in video
Captions
Learn More

Blu-Ray Discs

Blu-Ray discs were designed to take the place of DVD's with their optical disc storage. Blu-Ray discs enable you to watch your High Definition HD Movie Film memories on your TV when used in your Blu-Ray player.

Blu-Ray discs come with a menu, chapter markings & leader trimmed out. Learn More
Digital Color Correction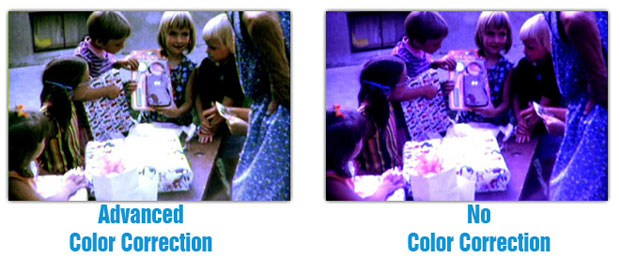 Only 15¢ Per Foot!
It is inevitable that as your movie film ages, the color ages as well. The fading of the dyes in your movie film is caused by a chemical change in the light exposure and temperature. While color fading can begin just years after your movie film has been developed, when you transfer your movie film with Larsen Digital Services you can choose to have your film color corrected by our professional technicians. There is no better way to watch your past movie film memories than the way they were intended, with the color restored to what it should be.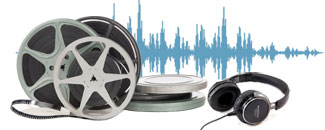 Some movie film was shot as silent film, and some movie film was shot with sound. The cost is 10¢ per foot.
We can capture the sound on Super8 movie film with a magnetic soundtrack and 16mm movie film with an optical soundtrack. If your movie film has an audio soundtrack, just indicate on your order form that your film has sound.
If you are unsure what you have, feel free to call us, and we can help you determine what type of movie film you have 1-800-776-8357.
Splicing Film with Sound
Industry standard is to splice smaller reels onto larger ones to make transferring movie film to digital more efficient. When we transfer movie film with sound it takes significantly more time to set up each reel to ensure that all of the audio is captured and in sync with the video. Due to this, if you need to make a special request that we do not splice your smaller reels onto a larger reel, there will be a $2.50 per reel fee. To learn more about why this is necessary, click here.
Offering 100% Capturing - Frame by Frame

Many other companies choose to do transfer your movie film with lower quality real time transfers, losing 20-30% of your films imagery. Your movie film deserves to be captured all the way, which is why we transfer all movie film frame by frame using an enlarged film gate so we can capture 100% of your precious film. Want more information? Click here
Professional HD Transfer
We specialize in transferring all types of movie film to digital. We can convert 8mm silent, super8 silent, Super8 with magnetic sound, 16mm silent, and 16mm movie film with an optical sound all on our Professional High Definition HD 1080p Frame by Frame movie film transfer equipment. We trust the state of the art Canon HS CMOS camera to transfer your 8mm, Super 8, and 16mm movie film to digital.

When you send us your movie film, we will professionally clean, repair, lubricate, and splice it before the transferring process begins.


High Definition
1080 High Definition HD frame by frame movie film transfers are captured by our professional High Definition HD equipment. Our equipment excels in many areas, including sharpness and color integrity. All of our High Definition HD movie film transfers are 1080p, which is a higher quality than 1080i.

HD = 16:9- 1080 resolution (progressive) @ 1080 x 1920


Standard Definition
Standard Definition - When you select to have your movie film transferred in Standard Definition, it is still transferred and captured with HD equipment, and then down sampled to Standard Definition. This gives you the best Standard Definition movie film transfer possible.

SD = 16:9 - Resolution @ 720 x 480

Because 16mm movie film, 8mm movie film, and Super8 movie film have narrower aspect ratios than typical widescreen 16:9 we will add black bars on each side of your video to maintain the correct aspect ratio for any widescreen TV.

Don't just stop at transferring your movie film- get copies for each of your family members to enjoy for the rest of their lives, and to leave as a legacy for generations to come!