FREE Standard Definition DVD 720x480
With all movie film orders you will receive your first set of DVD's for free. This DVD will play on your TV and will contain all the footage from your film. Your disc will have chapter markers to make skipping through your DVD faster & easier. It does not include editing of the film (unless you have ordered advanced color correction) and does not include a menu.
Contact us if you would like to have a custom DVD that has a menu with a title, background music, title pages to announce a new chapter, chapter markings, reel leader trimmed out, edit out unwanted portions of video, include still photos (digital images) in video, captions or special requests not mentioned here. Just email us at info@larsendigital.com , and describe your project, what you would like included and we can create a custom price for you.
High Definition Blu-Ray 1080x1920 - (1080p)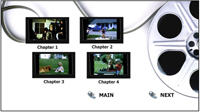 HD Blu-Ray Menu
16:9 Menu
5 Minute Chapters
Thumbnail picture per chapter
Start on any chapter
To add a Blu-Ray to your order it will add for every 2 hours of video.
Optional Custom Menu, Chapter Title Screens & leader trimmed out.