Slide Conversion
Submit Order Form By
May 25th

2000 DPI: 52¢ 39¢ Per Slide
3000 DPI: 55¢ 42¢ Per Slide
4000 DPI: 58¢ 44¢ Per Slide


Minimum Order $20 Details
Processing Times
Quantity
Normal
Processing
1-750
2 Weeks
750-3,000
3 Weeks
3001-5,000
3 Weeks
5001+
4 Weeks
Preparing Your Slides
Don't know where to start? Check out our easy instructions on preparing your slides.
Turn Around Times
Order completion dates are dependent on our current scanning backlog. Check out our current turn around times.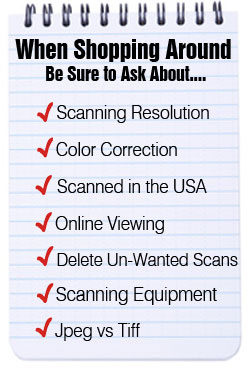 Scanned in the USA
Your irreplaceable slides are too precious to outsource. Unlike other scanning companies, once your work arrives at our facility in Utah, it stays here. More Info
Professional Equipment
Your slides deserve the best, which is why we avoid flat bed scanners when converting your slides, We proudly use the Nikon 5000, which delivers a much higher quality.
Check out some samples
CD's & DVD's
Want your slides scanned to a disc? We offer to burn your digital images to a DVD. The quality difference between a CD and DVD is the same, but the difference is that a DVD will hold more data than a CD. Because of this we burn all of your images onto DVD's or them on external hard drives. You can even download them directly from us.

If you are looking for the ability to view your slides on your TV you will want a VIDEO DVD, and will need to select our DVD Video Slideshow option.