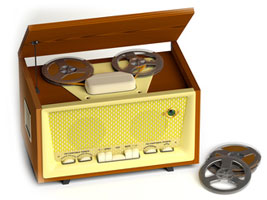 Reel to Reel Audio Conversion
Convert Your Reel to Reel Audio to CD or Mp3 File
We know it can be hard to send in your precious reel to reel audio to be digitally converted, but we make a promise to every customer that we will treat each reel as though they were our own. We are staffed with highly trained professionals, and scan with the best scanning equipment to ensure that you get a result your film deserves.
Saved to MP3: $23.99 $18.50 Per Hour
Saved to CD: $29.99 $23.50 Per Hour

Minimum Order $20 Details
How Much Audio Do You Have?
Reel Sizes & Duration




Reel Size

Slow Speed
1 7/8 inch per second

Medium Speed
3 3/4 inch per second
Fast Speed
7 1/2 inch per second
150 Feet - 3"
15 Minutes
8 Minutes
4 Minutes
300 Feet
32 Minutes
16 Minutes
8 Minutes
600 Feet - 5"
1 Hr 4 Minutes
32 Minutes
16 Minutes
1200 Feet- 7"
2 Hr 8 Minutes
1 Hr 4 Minutes
32 Minutes
1800 Feet
Not Accepting
Not Accepting
Not Accepting
3600 Feet- 10.5"
Not Accepting
Not Accepting
Not Accepting

*We do not process reels that are larger than 7".
Reel to Reel audio reels come sized between 3-10.5 inches.

Audio Tracks




Depending on how your reel to reel audio was recorded, there may be multiple tracks. For reels with multiple tracks, it will increse your duration. We can handle up to 4 tracks, (2 tracks per side). We bill for actual recorded time, so if your reels are not full, you will not pay for blank footage.
Scanned in the USA
Your irreplaceable audio reels are too precious to outsource. Unlike other conversion companies, once your work arrives at our facility in Utah, it stays here. More Info