127 Slide Conversion
Submit Order Form By
May 25th

2000 DPI: $1.03 78¢ Per Slide
3000 DPI: $1.33 99¢ Per Slide
4000 DPI: $1.48 $1.11 Per Slide

Order Form
Quickly estimate how many 127 slides you have and fill out our order form & we will convert your slides to digital!

Minimum Order $20 Details
Preparing Your Slides
Don't know where to start? Check out our easy instructions on preparing your slides.
Turn Around Times
Trying to scan your 127 slides by yourself can take you months or years to complete. We complete all our orders in a timely manner.
Turn around times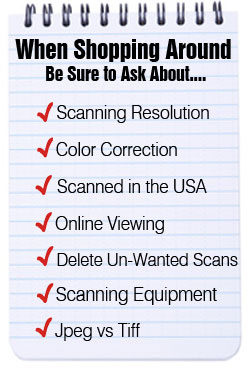 Scanned in the USA
Unlike other companies, we would never send your 127 slides outside the US to be scanned. We do all our conversion work ourselves!
Converted in the USA
Professional Equipment
Your slides deserve the best, which is why we avoid flat bed scanners when converting your slides, We proudly use the Nikon 9000, which delivers superior quality.
Check out some samples
127 Slide Formats
There are different types of 127 slide formats that we convert that digital. There is the 127 Format Slide and also the 127 Super Slide. Some 127 film are not inside a mount, but are loose film. Whatever type of 127 slide you have, we can convert it to digital.