Photos to Digital
Submit Order Form By
May 25th

300 DPI: 48¢ 30¢ Per Photo
600 DPI: 58¢ 45¢ Per Photo

Prices are based on photos that are no larger than 5" x 7". Larger photos will incur a surcharge Details

Minimum Order $20 Details
Processing Times
Quantity
Normal
Processing
1-500
2 weeks
500-2,000
3 Weeks
2,000-4,000
3 Weeks
Preparing Your Photos
Don't know where to start? Check out our easy instructions on preparing your photos.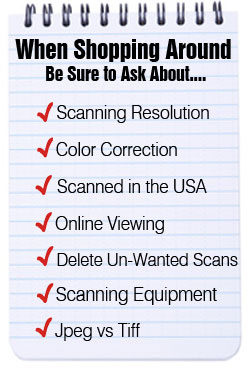 Scanned in the USA
Your irreplaceable photos are too precious to outsource. Unlike other scanning companies, once your work arrives at our facility in Utah, it stays here. More Info
Professional Equipment
High speed photo scanners turn out poor quality results. Your photographs deserve the best, so we have chosen to use the Epson 10000XL Professional Flatbed scanner, which will give you optimal scans.