Photos to Digital
Submit Order Form By
September 28th

300 DPI: 48¢ 30¢ Per Photo
600 DPI: 58¢ 45¢ Per Photo

Prices are based on photos that are no larger than 8 x 10. Larger photos will incur a surcharge Details

Minimum Order $20 Details
Processing Times
Quantity
Normal
Processing
1-500
2 weeks
500-2,000
3 Weeks
2,000-4,000
3 Weeks
Preparing Your Photos
Don't know where to start? Check out our easy instructions on preparing your photos.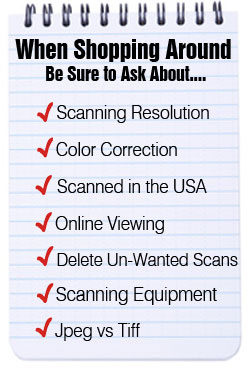 Scanned in the USA
Your irreplaceable photos are too precious to outsource. Unlike other scanning companies, once your work arrives at our facility in Utah, it stays here. More Info
Professional Equipment
High speed photo scanners turn out poor quality results. Your photographs deserve the best, so we have chosen to use the Epson 10000XL Professional Flatbed scanner, which will give you optimal scans.
Photo Conversion to Digital!

Hear What Past Customers Have To Say!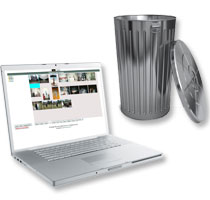 Online Viewing & Organization
Don't have time to organize your photos, but want to get them converted to digital? Look no further! We offer the ability for you to view and organize your digital images on-line, as well as delete unwanted scans. More Info

Delete Un-Wanted Scans
With our On-line Image Organization System (IOS), where you can view and organize your digitized photos, you also have the ability to get rid of photos that you don't want! Find out more
Scanning Resolution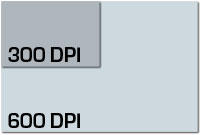 Figuring out what scanning resolution you want your photos digitized at is an important factor in your project. Scanning resolution will determine the quality of the scan. It is similar to the concept of megapixels on a digital camera, and as with most things, the higher the scanning resolution you choose, the higher the quality. Want to see the difference? Check out our scanning resolution examples.

Digital Color Correction
Standard Editing
Did you know that Standard Editing is included in the price of your scan? Not only do you get your photos scanned on top notch equipment, but your images will receive an automated fade correction, color balance, and image rotation post scanning.
Premium Editing
When you choose our premium editing option, all of your images will receive manual color and contrast adjustments, as well as minor spot treatment and cropping. All professional editing will be completed by a PhotoShop Expert.



To view more color correction examples, Click Here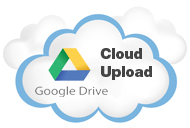 Download Files & Cloud Upload
No More Discs. No More Waiting.
We can upload your files into your cloud account, or we can download your files right from us!
DVD Video Slideshow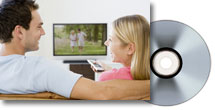 Our DVD Video Slideshows are an emotional way to bring your memories back to life. Once your photos have been scanned, we can create a custom Slideshow for you to play on your TV and share with loved ones. With options including background music and title pages, our DVD Video Slideshows are a great way to share your legacy. View all of our DVD Slideshow options
Our standard pricing includes all photos 5" x 7" and smaller.
If you have photos that are larger than 5" x 7" up to 8" x 10", an extra charge of $0.25 will be added.
Photos larger than 8x10 will be billed as a scrapbook page.